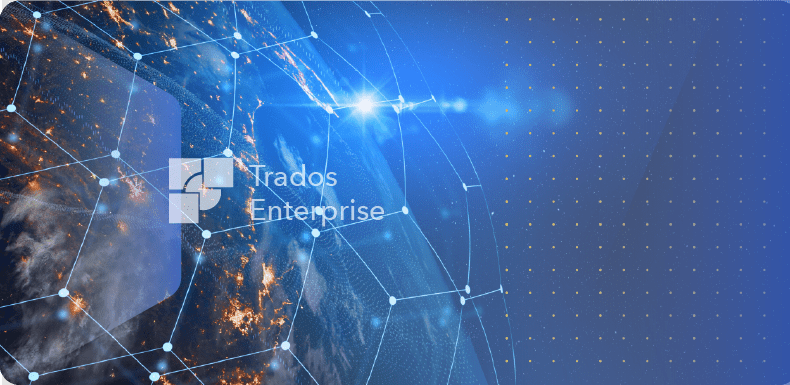 "Never stop learning" begins one of our core values at en Sinapi, and with that premise we set out to learn more about the promising new RWS tool, Trados Enterprise. 
Built to enterprise-scale, Trados Enterprise is the hub for your entire localization process and the leading end-to-end intelligent translation management solution (TMS) in the industry. 
Trados Enterprise is the first end-to-end, next-generation platform for intelligent translation, making it easier to manage translation for all content types, on all repositories, and using any translation strategy. 
Designed for everyone, from scholars and researchers to corporate language departments and language service providers (LSP), users will have access to intelligent systems alongside human expertise to optimize the translation process, providing greater control, visibility, and scalability across the global content supply chain. 
Trados Enterprise customers benefit from ongoing performance enhancements and refinements to its cloud-based TMS. Trados Enterprise received over 450 updates in 2021, with new features added to improve customer productivity and efficiency. 
TRADOS ENTERPRISE IS RWS' REVOLUTIONARY NEW TRANSLATION MANAGEMENT SYSTEM/SOLUTION, WHICH IS FULLY COMPATIBLE WITH THE TRADOS STUDIO APP. AN AGILE PLATFORM THAT IS SIMPLE TO USE AND MEETS ALL OF THE MODERN TMS REQUIREMENTS.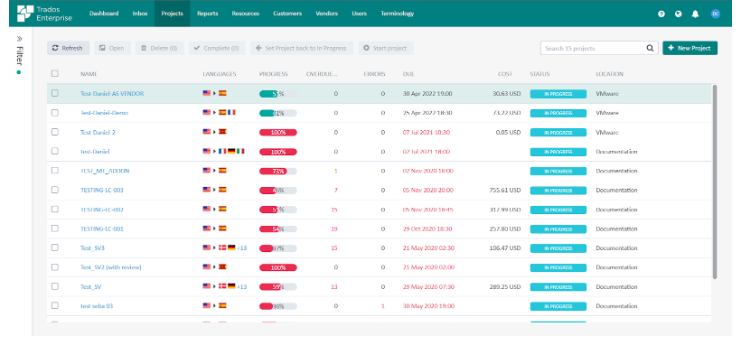 It has two interfaces that are intended for different users:  
Trados Enterprise

: primarily intended for system administrators, engineers, project managers, and others, from which all functionalities can be accessed.

 

Trados Customer Portal

: a platform devoted to job delivery and tracking, it is much simpler and is primarily intended for translators and reviewers.

 
One of the most promising aspects is the level of reporting. In comparison to other TMS, Trados Enterprise has very useful out-of-the-box accessible reports, but it also allows us to create our own. The reports are live, and the data is being updated as we speak.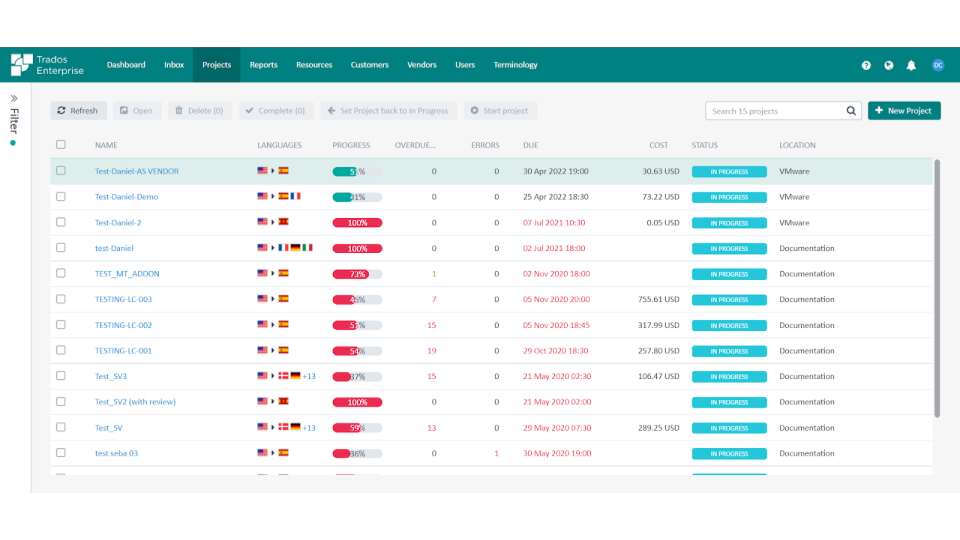 It has a very nice Kanban-style visual workflow editor. Recently, RWS engineers have enabled the possibility of creating automatic actions so that a developer could include their own code to perform any task not provided by the application.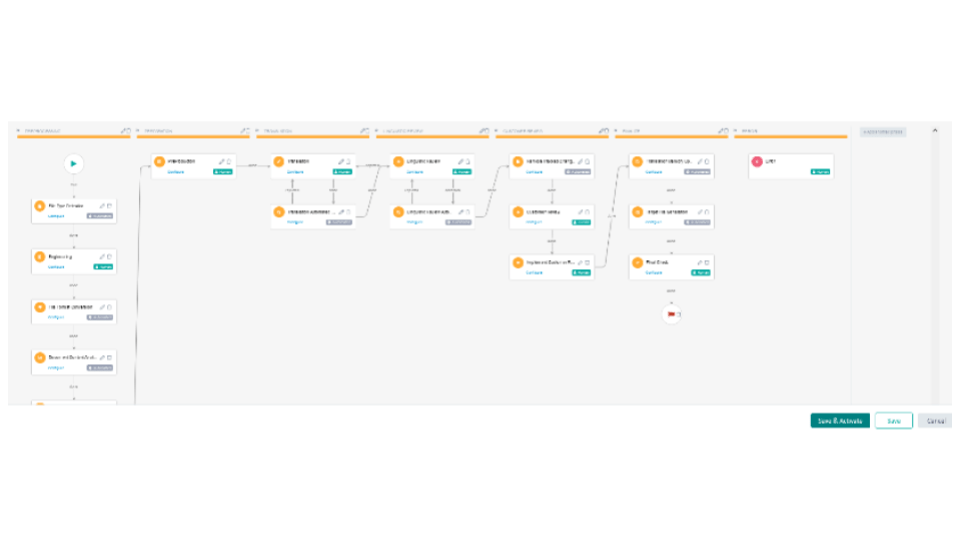 UNIQUE FEATURES AND KEY BENEFITS
Tagged as "the intelligent language solution built for tomorrow's content challenges," Trados Enterprise offers the following advantages which are extremely useful to all its existing, new and intended users: 
Complete content integration. With support for all file types and direct integration to over a hundred content repositories, you're saved from manual import/export tasks. 
Easy project creation. With simple forms, instant quotes, and out-of-the-box connectors for popular content repositories, anyone can get started making their content multilingual in a snap. 
Embedded language services give access to an extensive global network of expert in-house translators, pre-qualified freelancers, and specialized providers from around the world for ultimate cultural relevancy and subject expertise. 
Sophisticated neural machine translation (NMT) offers the benefit of instant translation that scales to any volume, with optional post-editing, focused only on content that requires more nuance. 
Built-in translator productivity. With complete Trados Studio® compatibility, translators never have to sacrifice leveraging their best translation memories, terminology, or preferred working environment. 
Intelligent translation management. RWS Linguistic AI analyzes your content to determine the best data to leverage across translation memories, terminology glossaries, and machine translation engines. 
Smarter reports and dashboards. These augmented project management dashboards assist users in making decisions and send them an alert before scheduled activities occur. 
Trados Enterprise is built on RWS Language Cloud, a cloud-based translation platform built from the ground up with easy-to-deploy, always-updated, and secure microservices. This means that with Trados Enterprise, you won't have to worry about upgrade headaches or IT challenges because you'll always be on the most recent version. 
It has a powerful API in constant evolution that looks very promising. This is very helpful for integrations to this platform. 
Their SDK in .NET is in beta version, and soon they will make available to users an SDK for Java (very useful if one comes from a platform like RWS WorldServer where they have many things developed in Java. This would allow making minor adjustments to what is already developed on other platforms for import into Trados Enterprise). 
Recently, RWS engineers have enabled the possibility of creating automatic actions so that a developer could include their code to perform any task not provided by the application. 
SINAPI, AS A SUPPORT AGENCY AND DEVELOPER, DISCOVERED A FEATURE THAT WE FOUND EXTREMELY USEFUL, PARTICULARLY WHEN TROUBLESHOOTING. IN THE EVENT OF A PROBLEM, WE CAN DOWNLOAD DIFFERENT VERSIONS OF THE TRANSLATED FILES AND THEN TRACK THAT TRANSLATION OR LOCATE THE CORRUPT FILE. SIMILARLY, EVEN AFTER THE PROJECT HAS REACHED AN ADVANCED STAGE, ONE COULD CONTINUE TO ADD FILES TO IT. 
Online Editor (OE) has also been added as a native application to Trados Enterprise. Compared to the RWS WorldServer, this OE version has some functionality improvements such as a preview. For certain types of files, we can see a LIVE preview of what is being translated or reviewed. Compatible with terminology support and live searches in TM. As extra functionality, we must mention the ability to create projects from certain native integrations that the system brings. For example, we can create projects from Google Drive, One Drive, AWS, Marketo, Zendesk, and so on. 
We mentioned earlier in the review that the integration with Trados Studio was very smooth. When you connect from Trados Studio to Trados Enterprise, your online projects will appear in the desktop tool right away. You will be able to work locally, and the changes will be reflected online automatically. 
To conclude, Trados Enterprise has many advantages, and just to mention a few: a modern interface that is compatible with current tools, it is a cloud tool, the learning curve for linguists is very short if they have previously used Trados Studio, and full compatibility with Trados Studio, integrated reports, preview functionality for Online Editor, the possibility of different integrations, and so on. 
As a potential area for improvement, we can note that they currently only offer an online version and do not have an on-premises version; however, its API and SDKs are still evolving, and I am confident that the new translation management solution will be something to be thrilled about. 
Trados Enterprise is essentially the next-generation intelligent translation management solution that supports all content types, across all repositories, using any translation method, designed for everyone.  
Discover how we can help you